Find these "extras" and more in the Exhibit Hall (Halls C, D, E) at the Ernest N. Morial Convention Center.
While you're browsing the aisles and chatting with exhibitors, stop by the various specialty ASHA lounges throughout the Exhibit Hall to talk with ASHA staff and connect with fellow members.
Our generous ASHA sponsors have gone above and beyond to support the 2022 ASHA Convention. Visit them in the Exhibit Hall to take advantage of some great opportunities and giveaways!
ASHA Mobile Adventure: Play to Win One of Three $500 Gift Cards
Visit these 11 booths in the Exhibit Hall to correctly answer trivia questions via your mobile phone:
Game Time: Wednesday, November 16, 2022 at 4:00 p.m. through Friday November 18, 2022 at 4:00 p.m.
How to Play: Text "play" to 56512 to begin and bookmark the game to your mobile home screen. Pre-register to participate in the ultimate ASHA Convention adventure. You may just win a $500 gift card!
Visit the ASHA Store for Book Signings and More!

Booth 639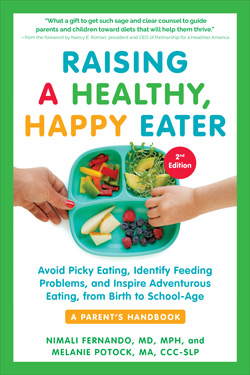 Book Signings
Thursday, November 17
Noon–12:30 p.m.
Raising a Healthy, Happy Eater
Melanie Potock
Meet Author Melanie Potock at the ASHA Bookstore. Raising a Healthy, Happy Eater explains how to expand your family's food horizons, avoid the picky eater trap, identify special feeding needs, and put joy back into mealtimes!
Friday, November 18
12:30 p.m.–1:00 p.m.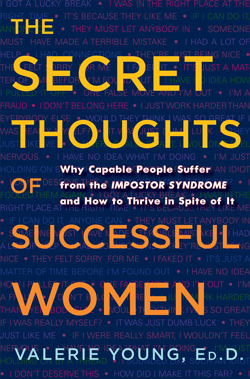 The Secret Thoughts of Successful Women: Why Capable People Suffer from Impostor Syndrome and How to Thrive in Spite of It
Valerie Young
Learn to take ownership of your success, overcome self-doubt, and banish the thought patterns that undermine your ability to feel—and act—as bright and capable as others already know you are with this award-winning book by Valerie Young. Meet the author at the ASHA Bookstore.
Special Discount for ASHA Convention Attendees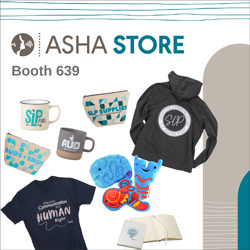 Save 20%+ at the ASHA Store during the ASHA Convention! Browse our convention-exclusive books, our gallery of posters, or our informative printed resources. You are sure to find the perfect T-shirt, mug, or fun gift item at an excellent price!
Publish with ASHA Press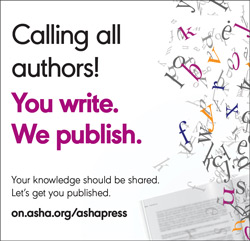 Got a great idea for a book or resource that will help ASHA members in their work? Come talk to ASHA Press and tell us more. Visit the ASHA Store for more information.
Visit the ASHA Continuing Education (CE) Lounge
Snap a Picture at Our CE Cafe for Instagram!
Booth1539
ASHA Continuing Education—or ASHA CE for short—is here to help you with your continuing education needs! Whether you want to earn ASHA Continuing Education Units (ASHA CEUs), find courses, organize and secure your course records, or seamlessly maintain your ASHA certification or state licensure, we've got you covered. Drop by the ASHA CE Lounge and snap a picture at our CE Cafe photo station, where you can satisfy your "appétit pour l'éducation"! ASHA CE team members will be there and can help with your questions.
Learn More About DEI Matters!
Booth 2121
Stop by the Multicultural Affairs Square during the ASHA Convention to explore resources related to culturally responsive practice and to learn more about how to get involved in furthering diversity, equity, and inclusion in our professions.
ASHA Member Services Center and the Special Interest Groups (SIGs)
Booth 1940
Need help with certification maintenance? Questions about the ASHA Learning Pass? Looking for the famed Ribbon Wall? Stop by the ASHA Member Service Center! While you're there, explore ASHA member benefits, uncover discounts and programs available to you, submit feedback to ASHA leadership, and much more. You will also be able to learn more about the benefits of joining a SIG and share your story at the ASHA Stream Story Booth.
Council on Academic Accreditation in Audiology and Speech-Language Pathology (CAA)
Booth 229
Come visit ASHA Accreditation staff in the ASHA Academic-Research-International Square to have your questions answered about the revised accreditation standards, site visits, candidacy, and more!
Faculty-Researcher Lounge
Booth 229
Stop by the Faculty-Researcher Lounge in the In Academic, Research, and International Square to meet ASHA Academic Affairs and Research Education staff to learn about the latest resources and initiatives.
International Programs at Academic-Research-International Square
Booth 229
Everyone is invited to stop by to learn about ASHA's international programs! Find out more about the International Affiliates program and new modifications to eligibility; ASHA's international initiatives and programs; ASHA's collaboration with the World Health Organization and, in particular, with the Pan American Health Organization; and how joining Special Interest Group 17 (Global Issues in Communication Sciences and Related Disorders) can extend your learning help you connect with other members who have an interest in international issues. You can also learn about the activities of the International Issues Board.
Visit the ASHA Career Portal Lounge (Sponsored by Presence)
Booth 338
Whether you're an active job seeker or simply interested in discovering ways to advance your career, visit us at the Career Portal Lounge sponsored by Presence. Attend mini workshops focused on career development, talk to a Career Coach, learn more about the ASHA Career Portal resources, network with your colleagues, and participate in a digital scavenger hunt to win exciting prizes! You can also grab a snack, refill your water bottle, and recharge your phone while you take charge of your career. Be ready to answer when opportunity knocks!