Find these "extras" and more in the Exhibit Hall at the Walter E. Washington Convention Center.
While you're browsing the aisles and chatting with exhibitors, stop by the various specialty ASHA lounges throughout the Exhibit Hall to talk with ASHA staff and connect with fellow members.
Our generous ASHA sponsors have gone above and beyond to support the 2021 ASHA Convention. Visit them in the Exhibit Hall to take advantage of some great opportunities and giveaways!
ASHA Mobile Adventure: Play to Win One of Three $500 Gift Cards
Visit these four booths in the Exhibit Hall to correctly answer trivia questions via your mobile phone, and you'll be entered to win one of three $500 gift cards.

Dynamic Resources: Booth 926
Genesis Rehab Services: Booth 716
MedTravelers: Booth 703
ProMedica Senior Care: Booth 200
Game Time
Thursday, November 18, 9:00 a.m. through Saturday, November 20, 12:00 noon.
How to Play
Text "play" to 56512 to begin, and bookmark the game to your mobile home screen. Pre-register to participate in the ultimate ASHA Convention adventure. You may just win a $500 gift card!
Book Signings and Author Q&A at the ASHA Store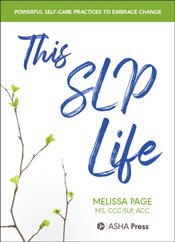 Booth 737
Thursday, November 18
12:00 noon–12:20 p.m.
This SLP Life
Melissa Page, MS, CCC-SLP, ACC
Struggling to keep a balance between health, finances, family life, social life, and more? Learn how to use one of Melissa's many tools—The Wheel of Life—to make empowered choices!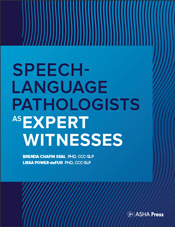 Friday, November 19
12:00 noon–12:20 p.m.
Speech-Language Pathologists as Expert Witnesses
Brenda Chafin Seal, PhD, CCC-SLP, and Lissa Power-deFur, PhD, CCC-SLP
Have you been called to be a fact or expert witness? What are some of the professional and ethical considerations? How can you minimize risks associated with litigation? Stop by for a chat with Brenda and Lissa to learn how to become an effective expert witness.
Friday, November 19
1:00 p.m.–1:20 p.m.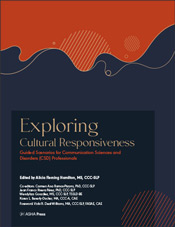 Exploring Cultural Responsiveness
Alicia Fleming Hamilton, MS, CCC-SLP
Carmen Ana Ramos-Pizarro, PhD, CCC-SLP
Jean Franco Rivera Pérez, PhD, CCC-SLP
Wendyliza González, MS, CCC-SLP, TSSLD-BE
Become a culturally responsive practitioner! Stop by to meet some of the team behind the book and find out it how was created, learn more about the thought-provoking case studies, and get tips on how to navigate cultural interactions in your own practice.
ASHA Learning Pass Discount
Booth 737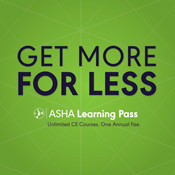 Stop by the ASHA Store and learn more about the ASHA Learning Pass! ASHA Convention registrants can subscribe to the ASHA Learning Pass for just $44.* Enjoy unlimited access to more than 1,100 hours of ASHA CE content—that's 500+ CE courses—and unlimited access to ASHA continuing education units (CEUs). Don't want to wait until Convention? Get your exclusive discount now by going to on.asha.org/learningpass, select the "Subscribe Now" button, and log in to see the discounted price.*
*You must be a confirmed, paid 2021 ASHA Convention in-person or Virtual Library registrant and ASHA member to qualify for the $44 rate for the ASHA Learning Pass. Nonmembers pay $79. Exhibitors and 1-day registrants are not eligible. Discount applies to an initial Learning Pass purchase only, not to Learning Pass auto-renewals. Your 1-year subscription will automatically renew each year—and when you stay in, you continue to save off the regular rate.
Students, Connect With Friends at the NSSLHA Lounge!
Booth 1317


Stop by the NSSLHA Lounge to say, "Hi!," meet your National NSSLHA student leaders and staff, and make new friends! Be sure to check in for one of our student-only meet-ups to connect with peers who are in the same stage of their communication sciences and disorders (CSD) education as you, are interested in the same CSD topics, and/or live in the same region as you! While there, nab one of our free giveaways and ribbons, and snap a pic at our selfie station.
Certification Updates on Telesupervison, Audiology Standards, and Assistants Certification!
Booth 424
Visit the Certification booth to get the latest info on:
Learn About Clinical Specialty Certification
Booth 627
Stop by the Specialty Certification Board booth in the Exhibit Hall to learn about becoming a Board Certified Specialist. Establish a new specialty area of practice, and grow professionally!
ASHA Advocacy: We Need Your Help!
Booth 445
Audiologists and speech-language pathologists are the professions' most powerful advocates. Stop by the Advocacy booth to learn about how we are fighting for you—and how you can partner with us!
ASHA-PAC: Your Voice on Capitol Hill!
Booth 445


Win! Donate $20 to ASHA-PAC to be entered in a drawing for an Apple Watch! In-person attendees can donate at the booth. Virtual attendees can donate online between November 15 and November 22 to be entered to win. Donations made during conference registration will be counted. View the ASHA-PAC Sweepstakes official rules.
Donor Circle Pins! Current fundraising year 2022 Gold, Platinum, Diamond and Champion's Circle donors can pick up their pins at the booth!
Ribbons! First time donor? Repeat donor? Pin-level donor? Stop by the booth to pick up a special ribbon to show pride in your commitment to the professions.
Cupcakes and Chocolate, Oh My! Stop by the booth on Thursday to enjoy cupcakes from Georgetown Cupcakes and Friday for chocolates from Capital Candy Jar.
Become an ASHA Media Champion—Getting Started in PR
Booth 1301
Stop by the ASHA Public Relations (PR) booth to learn more about ASHA's current public education campaigns and how you can get involved. Find free resources that you can use with current and prospective client/patient/student families; learn how ASHA PR works with the media to promote the professions; and talk to ASHA PR staff about how to raise your profile in your local community through media outreach.
Take ASHA CE's Daily Quiz and Enter to Win an ASHA CE Registry Subscription!
Booth 507

Attention digital sleuths! ASHA Continuing Education (CE) is giving away one free ASHA CE Registry subscription each day of the virtual ASHA Convention from November 15 to November 22. Enter by correctly answering our daily quiz question for your chance to win! Check out ASHA CE's exhibitor profile for more details and to answer the daily question starting on November 15, 2021.
If you're joining us at the in-person ASHA Convention in D.C., drop by the ASHA CE Lounge in the Exhibit Hall and snap a picture among the cherry blossoms at our one-of-a-kind Instagram station. ASHA CE team members, Carol and Zack, will be there and are excited to meet you! They can answer your questions and tell you all about what the ASHA CE Registry has to offer.
It's a Party! Join the ASHFoundation for Our 75th Anniversary Celebration
Booth 825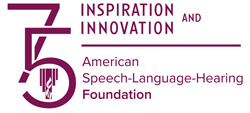 WIN—WIN—WIN! Join our 75 Days of Giving-Back campaign and enter to WIN $100 each day of the ASHA Convention.
Leave a Love Note! Come write your 75th Anniversary message on our life-sized "75"…and keep the sparkly gold marker as our 75th thank-you memento.
Students and Researchers—Join Our 75-Year Tradition of Giving! Learn about our research grants and student scholarships to help fund your education or your innovative idea. You could be a future ASHFoundation awardee!
Meet Our 75th Anniversary Who's Who! Check out our 2021 award recipients and learn about how these great innovators are changing people's lives.
Special Badge Adornments! Donors, Past and Present Award Recipients, University Giving Ambassadors, and Program Reviewers—stop by to get your special badge adornment.
Let's Get This Party Started! Help us kick off the next 75 years. Learn about the many ways you can get involved in our bright future. Become a University Giving Ambassador, Fabulous Fundraiser Host, Legacy Leader, Program Reviewer, Donor, and more. Let's get you onboard!
ASHA Member Service Center Is Now in the Exhibit Hall
Booth 419
Come by the ASHA Member Service Center, now located inside the Exhibit Hall, to chat all things ASHA benefits—and visit the famous ribbon wall! Need to check your certification maintenance cycle? Want more information on applying for ASHA membership and certification? We're here to help!