Find these "extras" and more in the Exhibit Hall (Halls A, B1, B2 and C) at the Boston Convention and Exhibition Center. While you're browsing the aisles and chatting with exhibitors, stop by the various specialty ASHA lounges throughout the Exhibit Hall to talk with ASHA staff and connect with fellow members.
ASHA Mobile Adventure: Play to Win One of Three $500 Gift Cards
Visit these 12 booths in the Exhibit Hall to correctly answer trivia questions via your mobile phone: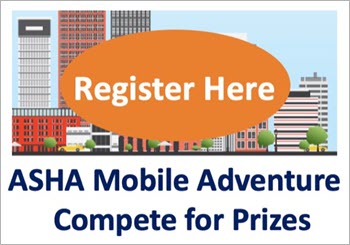 Game Time: Wednesday, November 15, 2023 at 4:30 p.m. through Saturday, November 18, 2023 at 12:00 noon.
How to Play: Text "play" to 56512 to begin and bookmark the game to your mobile home screen. Pre-register to participate in the ultimate ASHA Convention adventure. You may just win a $500 gift card!
---
ASHA Store Happenings
Booth 669
Special Discount for ASHA Convention Attendees
Save 20%+ at the ASHA Store during the ASHA Convention! Browse our convention-exclusive books, our gallery of posters, or our informative printed resources. You are sure to find the perfect T-shirt, mug, or fun gift item at an excellent price!

ASHA Learning Pass Drawing at the ASHA Store
Visit the ASHA Store to enter a drawing for a free, one-year subscription to the ASHA Learning Pass! Three winners will be selected. See full terms and conditions.

Book Signings


12:15 p.m. – 1:00 p.m.
Simon C. Barton, author and ASHA Convention presenter, will be signing copies of his book, Bad Rhymes, No Reason: Reflections, Ramblings & Rantings of a Rancorous Stroke Survivor.

Book Drive at the ASHA Store
The ASHA Store has partnered with Harvard Kent Elementary, a local school, for a book drive. For only $10, you can donate one of our preselected books at checkout. When you donate, you'll be providing Harvard Kent Elementary with valuable educational resources that will inspire young minds and will contribute to improved language and literacy skills. Ask your cashier about donating!
Publish with ASHA Press
Got a great idea for a book or resource that will help ASHA members in their work? Come talk to ASHA Press at the ASHA Store and tell us more.
---
Audiology in the Exhibit Hall
Booth 1075
Visit the ASHA Audiology Booth in the Exhibit Hall to pick up a fun giveaway and a list of audiology sessions, and to chat with staff audiologists who are part of the Audiology Practices team. The ASHA Audiology Booth, Audiology Square, and the Starkey Audiology Lounge (lounge sponsored by Starkey) will be near audiology session locations.
---
Drop By the ASHA Continuing Education (CE) Lounge to Learn How to CEFind the Right Course for You
Booth1539
Hi, we're ASHA Continuing Education, ASHA CE for short, and we're here to help with your continuing education needs! Whether you want to find courses using the new and improved CEFind, earn ASHA Continuing Education Units (ASHA CEUs), organize and secure your course records, or seamlessly maintain your ASHA certification and state licensure, we've got you covered. Drop by the ASHA CE Lounge in the exhibit hall (Booth 1037) and snap a picture when you CEFind the pink cow and penguin! CE team members will be there to help you with your questions.
---
Ignite Your Career at the ASHA Career Portal Lounge
Sponsored by E-Therapy
Booth 877
If you are interested in discovering ways to ignite your career, visit us at the Career Portal Lounge. Attend mini workshops led by your innovative peers focused on career transitions and learn how they "Got The Job"; discover ASHA Career Portal resources, network with your colleagues, participate in a digital scavenger hunt, and win exciting prizes including a $25 ASHA Store gift certificate and an Apple i-Pad! Learn about career resources, grab a snack, refill your water bottle, and recharge your phone! Opportunity will knock. Be ready to answer!
---
Need Solutions to Grow Your Business? Come Visit ASHA Marketing Solutions!
Booth 1154
Do you own a private practice? Do you have products or services that you are interested in marketing to ASHA professionals/NSSHLA Students? Are you interested in discounted group rates for CE opportunities? Visit the ASHA Marketing Solutions booth to discover tips to market your practice/company to help boost your business and learn more about discounted offerings on ASHA Learning Pass.
---
ASHA Public Relations Lounge
Booth 100
We welcome you to visit the ASHA Public Relations Lounge, where you can learn about ASHA's public education campaigns; the new developmental milestones for communication and feeding and swallowing; the renaming of Better Hearing and Speech Month; and much more. Get a free digital photo of yourself; take a fun selfie (or a few, with colleagues and friends); and/or lend your expertise and insights to ASHA PR staff on-camera for future association videos. We look forward to seeing you!
---
ASHA's Updated Developmental Milestones: Birth to 5 Years, Communication and Feeding Skills
ASHA is proud to announce a comprehensive update of our developmental milestones for children ages birth to five years. These include communication milestones as well as brand-new milestones for feeding and swallowing. These milestones are a key resource you can share with parents, caregivers, and your clients to help families track their child's development. To explore and learn more about ASHA's updated developmental milestones, visit the SLP Practices Lounge (Booth 842), Starkey Audiology Lounge, the ASHA Public Relations Lounge (Booth 100), or the ASHA Member Services Center (Booth 635).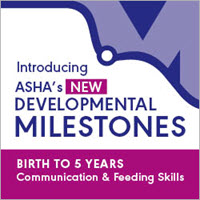 ---
Tell Us Your Story at the ASHA Stream Story Booth!
Booth 1243
What stories do you love to tell about the power of your profession? What's helped you as a clinician? Stop by the ASHA Stream Story booth during Exhibit Hall hours to share your story with ASHA members and colleagues!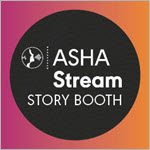 ---
Visit the ASHFoundation
Booth 555
Catch up with the ASHFoundation over a cup of tea on Wednesday, November 15, 5:00 p.m.–6:00 p.m. or Thursday, November 16, 11:00 a.m.–2:00 p.m. Stop by to meet and greet our newest cohort of award recipients. Learn about annual research grants, scholarships, and clinical awards and how to apply for funding. You could be a future ASHFoundation awardee! You can also learn about the many ways you can get involved to support the ASHFoundation. Become a University Giving Ambassador, Legacy Leader, Program Reviewer, Donor, and more. Join us!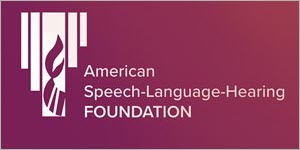 ---
Find commUNITY in a Special Interest Group
Booth 635 (located in the ASHA Member Services Center)
ASHA Special Interest Groups (SIG) are communities centered around areas of professional practice within the discipline of communication sciences and disorders. SIGs create a dedicated space for ASHA and NSSLHA members to explore their specific interests, share focused resources, and network and collaborate with colleagues.
With 20 SIGs focusing on a range of topics, we're sure there's at least one for you.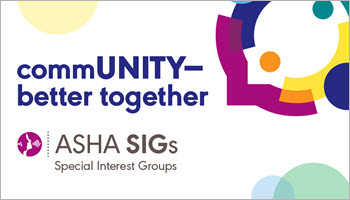 ---
Visit ASHA's Practice Portal In Person!
Booth 743
Visit the Practice Portal to take a break, recharge, and learn about our new and recently updated topics to ignite your clinical practice.
---
Join ASHA-PAC for a Cup of Coffee
Booth 949
All ASHA-PAC donors are invited to stop by the ASHA Advocacy and PAC Booth for a cup of coffee and light breakfast. Not yet a donor? Stop by to learn more about how ASHA-PAC is working for you!
---
Thank You, Sponsors!
Our generous ASHA sponsors have gone above and beyond to support the 2023 ASHA Convention. Visit them in the Exhibit Hall to take advantage of some great opportunities and giveaways!